Olive Farmacy
Regular price
Sale price
$22.49 CAD
Unit price
per
Sale
Sold out
Experience Nourishment and Relief with Olive Farmacy's After Sun Treatment
Are you tired of feeling the sting of sunburn after a day spent outdoors? Say goodbye to discomfort and hello to rejuvenation with Olive Farmacy's After Sun Treatment. Designed to provide ultimate care and relief for your sun-kissed skin, this exceptional product is your ticket to a revitalized and refreshed complexion.
After Sun offers:
Superior Nourishment
Packed with the goodness of nature, our After Sun Treatment is formulated with a blend of organic, super healthy high polyphenol olive oil, aloe vera, and chamomile floral water. These powerful natural ingredients work harmoniously to nourish and restore your skin's health, giving it the pampering, it deserves. Bid farewell to dryness, tightness, and flakiness caused by prolonged sun exposure as this treatment deeply hydrates and replenishes your skin's moisture levels.
Soothing Relief
Banish the discomfort and irritation of sunburned skin with the soothing properties of our After Sun Treatment. Aloe vera, renowned for its calming effects, instantly soothes and cools the skin, alleviating redness, and inflammation. Let the gentle touch of our treatment bring relief, allowing you to relax and embrace the healing process with ease.
Radiant Rejuvenation
Unleash your skin's inner glow with Olive Farmacy's After Sun Treatment. The infusion of antioxidants helps combat free radicals, promoting skin regeneration and reducing the appearance of sun damage. Witness your skin transform as it regains its vitality, radiance, and youthful complexion. Embrace a fresh start every day, knowing that your skin is restored and protected.
Experience the transformative power of Olive Farmacy's After Sun Treatment today. Pamper your skin with a luxurious blend of organic olive oil, aloe vera, and chamomile floral water. Replenish, soothe, and revitalize your sun-drenched skin like never before. Shop now and step into a world of ultimate skin care indulgence.
Invest in the well-being of your skin with Olive Farmacy's After Sun Treatment. Trust in our award-winning formula, crafted with your skin's health and radiance in mind. Prepare to bask in the compliments as your skin becomes a testament to the benefits of nature's finest ingredients. Order now and let the healing begin!
Share
Ingredients

Rallis Ice Pressed® High Polyphenol Olive oil infused with calendula flowers (Olea europaea with calendula flowers); Aloe vera juice (Aloe vera); Witch hazel (Hamamelis virginiana); Chamomile Floral Water (Anthemis nobilis flower); Lavender essential oil (Lavandula angustifolia); Elemi essential oil (Canarium luzonicum); Geranium essential oil (Pelargonium graveolens); Germall preservative.
Olive Oil & Skin Health

Rich in Vitamin E & other naturally occurring antioxidants & nutrients,
high polyphenol olive oil has been proven to reduce inflammation; provide deep moisturization with clogging pores; assist in collagen production and rejuvenate & heal damaged skin.

All of our skin care products are made with Rallis Ice Pressed® Olive Oil.

 
Care Information

Apply to sun exposed skin. Avoid contact with eyes. Discontinue use if irritation occurs. For a further cooling effect, keep in the fridge.
View full details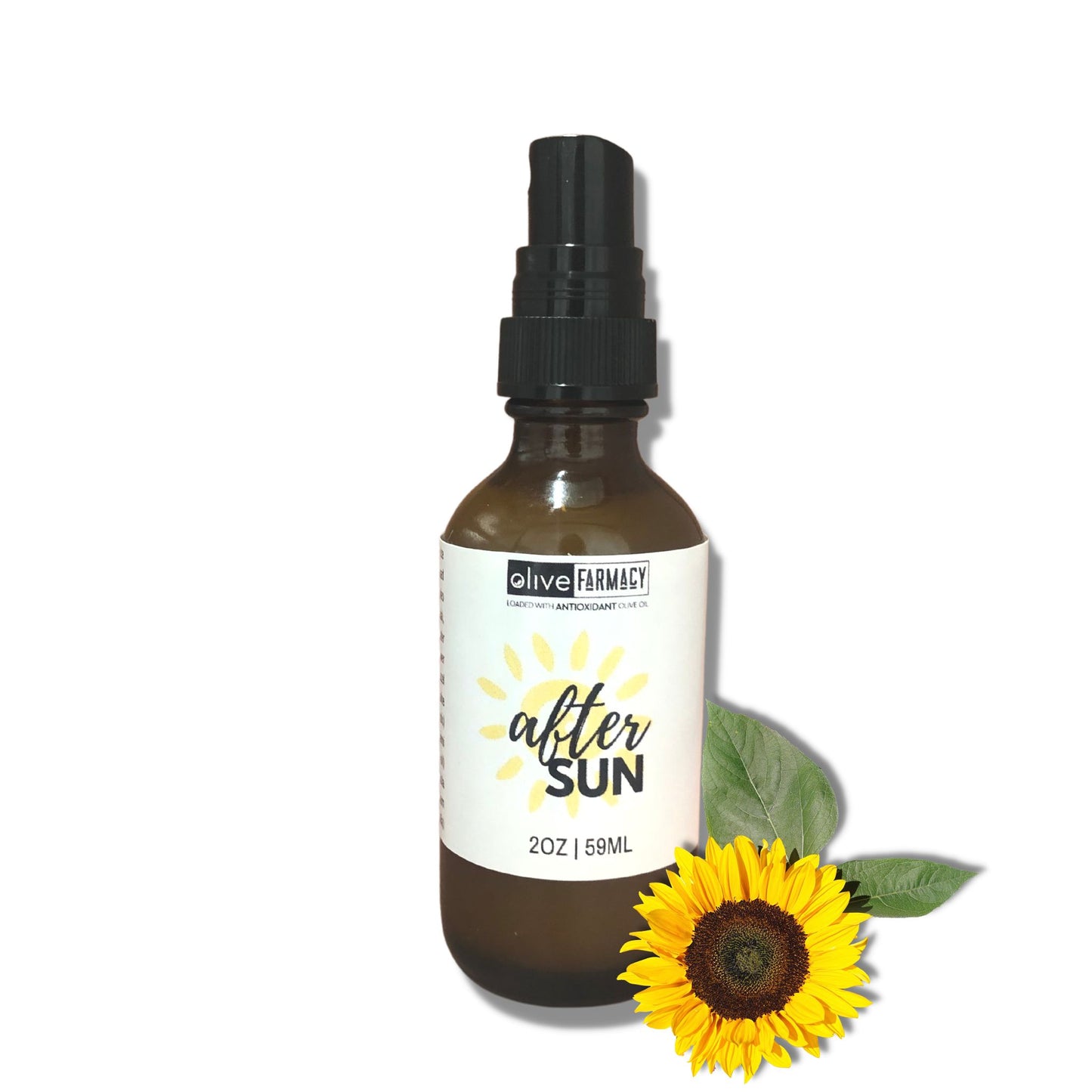 Review from Maddie
"Olive Farmacy's Aftersun is a game-changer for tan enthusiasts. Get your hands on it, hit the beach, and shine all summer long! Totally helped my tan, took away the redness after a day at the beach. Smells awesome! Goes on nicely"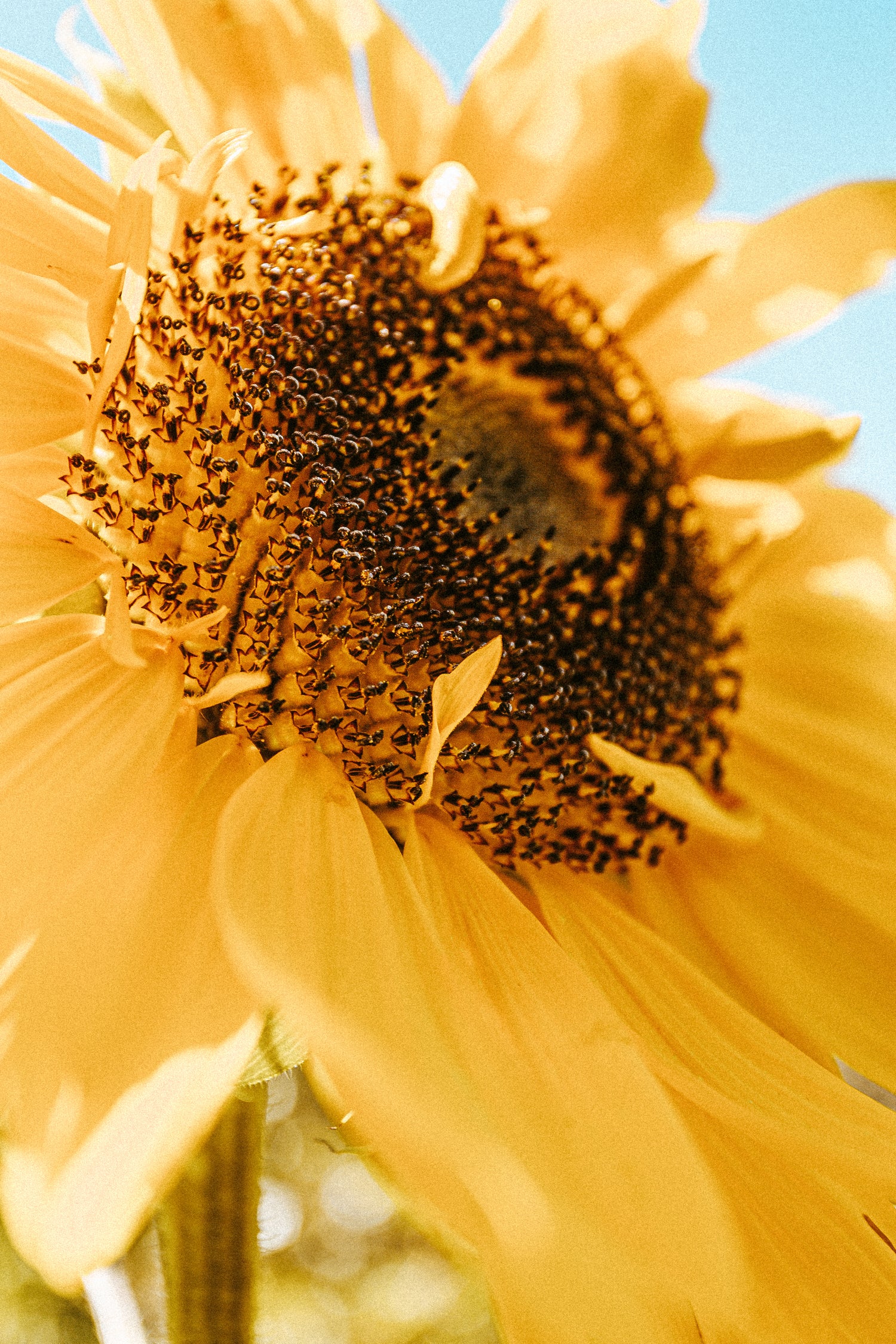 The Sun & Our Well-Being
Sunlight is the primary source of energy, providing the necessary warmth and light for all living organisms. Sunlight is also crucial for the production of vitamin D in our bodies, which is essential for bone health and plays a role in our immune system. Exposure to sunlight has been linked to improved mood and mental well-being, as it stimulates the release of serotonin, a neurotransmitter associated with happiness. Moreover, sunlight helps regulate our circadian rhythm, promoting healthy sleep patterns. The sun's radiance illuminates our world, nourishes our bodies, and inspires us to appreciate the wonders of nature.