Olive Farmacy
Regular price
Sale price
$15.99 CAD
Unit price
per
Sale
Sold out
Discover the secret to ultimate comfort and confidence with Olive Farmacy Bottom Powder. Specially formulated to provide unparalleled care for your sensitive areas, this revolutionary product is designed to keep you feeling fresh, dry, and confident all day long. Say goodbye to discomfort and hello to a new level of comfort and hygiene.
Why Choose Olive Farmacy Bottom Powder?
Unrivaled Quality: Our bottom powder is meticulously crafted using the finest natural ingredients.  We take pride in delivering a product that meets the highest standards of excellence, ensuring optimal performance and customer satisfaction.
Soothing and Moisture-Absorbing: This helps to prevent chafing, irritation, and unpleasant odors, keeping you feeling fresh and dry even during the most demanding activities.
Long-Lasting Freshness: With Olive Farmacy Bottom Powder, you can bid farewell to uncomfortable sweat and unwanted odors. Our advanced formulation works tirelessly to provide long-lasting freshness, giving you the confidence to face the day without worry or self-consciousness.
Easy Application: We believe that taking care of your well-being should be simple and convenient. The Olive Farmacy Bottom Powder features a user-friendly design that allows for effortless application. Simply sprinkle a small amount onto your palm or directly onto your skin and experience instant comfort and relief.
Versatile and Multi-Purpose: Don't limit the benefits of Olive Farmacy Bottom Powder to just one area. Our versatile powder can be used on various parts of the body, including underarms, feet, and any other areas prone to perspiration or irritation. Embrace all-day freshness from head to toe.
Unlock a New Level of Comfort with Olive Farmacy Bottom Powder
Experience the transformative power of Olive Farmacy Bottom Powder and embark on a journey towards unparalleled comfort and confidence. Don't let discomfort hold you back any longer – choose the ultimate solution that combines premium quality, natural ingredients, and exceptional performance.
Order your Olive Farmacy Bottom Powder today and take the first step towards a more comfortable and confident you. Invest in your well-being and discover the freedom of a life without discomfort. Trust Olive Farmacy to deliver the results you deserve.
Share
Ingredients

Arrowroot Powder (Maranta Arundinacea Root), Kaolin Clay (Kaolin), Calendula Powder
(Calendula Officinalis Flower), Chamomile Powder (Chamomilla Recutita), Essential Oil Blend: Lavender (Lavandula Angustifolia), Bergamot (Citrus Bergamia)
Care Information

Apply as needed to buttocks, thighs and genital areas. Discontinue use if skin becomes irritated. External Use Only.

Store in a cool place away from heat or direct sunlight.
View full details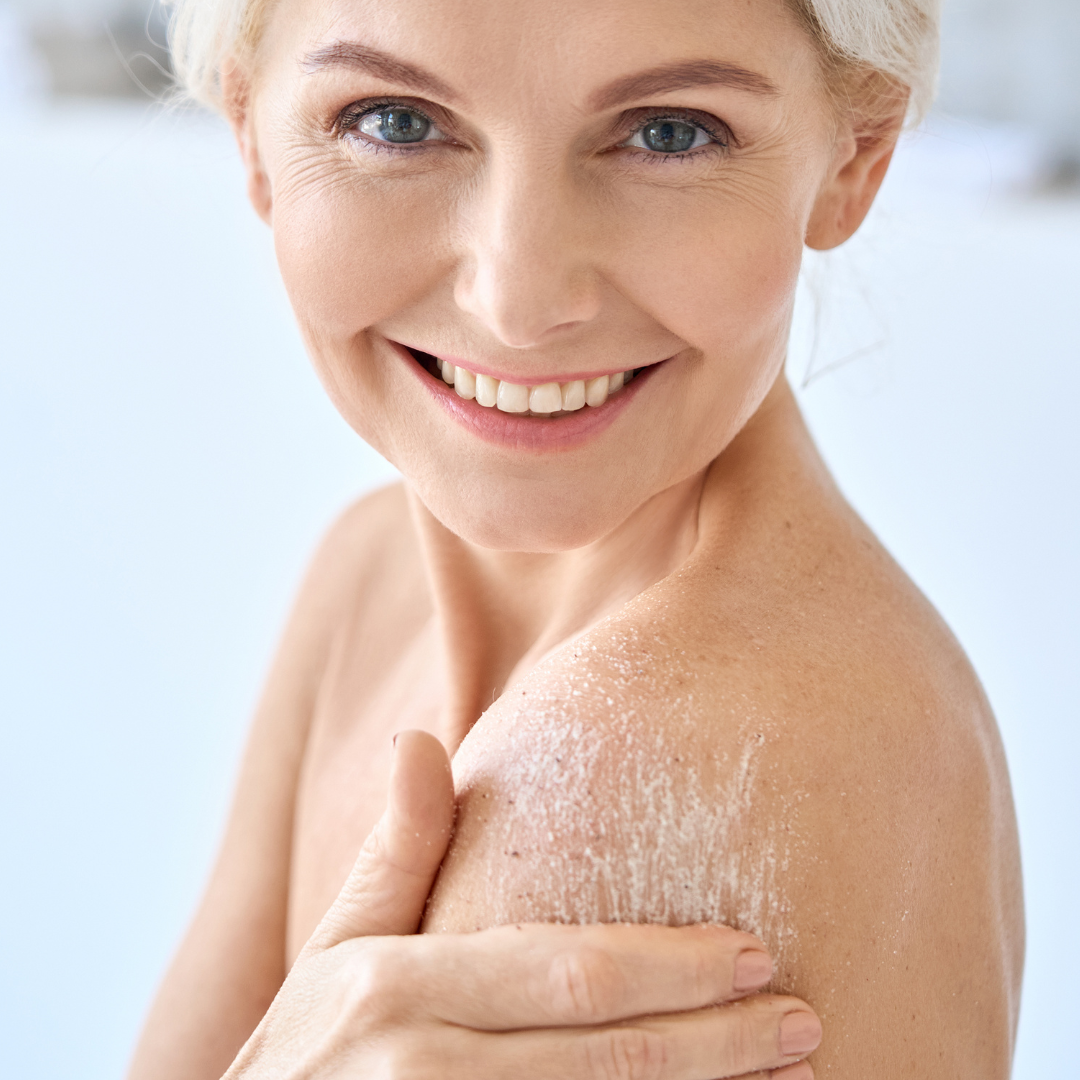 A COMMON PROBLEM
Chafing is a common adult problem. It often begins as pink or red patches, dry peeling skin or small bumps. It often itches and burns and makes the affected area tender and painful.  
Irritation often occurs in the thigh and genital areas and can be very uncomfortable. When your skin is red and irritated it is super important to use clean, natural ingredients. Harsh parabens, alcohol, petroleum, artificial dyes, and fragrances often found in over the counter products can worsen the irritation.  
We recommend thoroughly cleaning the affected area with pure olive oil soap and pat dry. Apply Bottom Powder as needed.